Diabetes Diet Eating and Physical Activity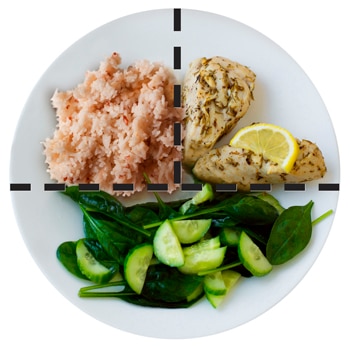 You can find many different combinations of food and more details about using the plate method from the American Diabetes Association's Create Your Plate External link.
Your daily eating plan also may include small snacks between meals.
Portion sizes
You can use everyday objects or your hand to judge the size of a portion.
1 serving of meat or poultry is the palm of your hand or a deck of cards
1 3-ounce serving of fish is a checkbook
1 serving of cheese is six dice
1/2 cup of cooked rice or pasta is a rounded handful or a tennis ball
1 serving of a pancake or waffle is a DVD
2 tablespoons of peanut butter is a ping-pong ball
Carbohydrate counting
Carbohydrate counting involves keeping track of the amount of carbohydrates you eat and drink each day. Because carbohydrates turn into glucose in your body, they affect your blood glucose level more than other foods do. Carb counting can help you manage your blood glucose level. If you take insulin, counting carbohydrates can help you know how much insulin to take.
The right amount of carbohydrates varies by how you manage your diabetes, including how physically active you are and what medicines you take, if any. Your health care team can help you create a personal eating plan based on carbohydrate counting.
The amount of carbohydrates in foods is measured in grams. To count carbohydrate grams in what you eat, you'll need to
learn which foods have carbohydrates
learn to estimate the number of grams of carbohydrate in the foods you eat
add the grams of carbohydrate from each food you eat to get your total for each meal and for the day
Most carbohydrates come from starches, fruits, milk, and sweets. Try to limit carbohydrates with added sugars or those with refined grains, such as white bread and white rice. Instead, eat carbohydrates from fruit, vegetables, whole grains, beans, and low-fat or nonfat milk.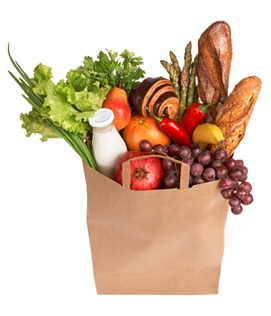 In addition to using the plate method and carb counting, you may want to visit a registered dietitian (RD) for medical nutrition therapy.
What is medical nutrition therapy?
Medical nutrition therapy is a service provided by an RD to create personal eating plans based on your needs and likes. For people with diabetes, medical nutrition therapy has been shown to improve diabetes management. Medicare pays for medical nutrition therapy for people with diabetes External link If you have insurance other than Medicare, ask if it covers medical nutrition therapy for diabetes.
Will supplements and vitamins help my diabetes?
No clear proof exists that taking dietary supplements NIH external link such as vitamins, minerals, herbs, or spices can help manage diabetes.1 You may need supplements if you cannot get enough vitamins and minerals from foods. Talk with your health care provider before you take any dietary supplement since some can cause side effects or affect how your medicines work.2
Why should I be physically active if I have diabetes?
Physical activity is an important part of managing your blood glucose level and staying healthy. Being active has many health benefits.
Physical activity
lowers blood glucose levels
lowers blood pressure
improves blood flow
burns extra calories so you can keep your weight down if needed
improves your mood
can prevent falls and improve memory in older adults
may help you sleep better
If you are overweight, combining physical activity with a reduced-calorie eating plan can lead to even more benefits. In the Look AHEAD: Action for Health in Diabetes study,1 overweight adults with type 2 diabetes who ate less and moved more had greater long-term health benefits compared to those who didn't make these changes. These benefits included improved cholesterol levels, less sleep apnea, and being able to move around more easily.
Even small amounts of physical activity can help. Experts suggest that you aim for at least 30 minutes of moderate or vigorous physical activity 5 days of the week.3 Moderate activity feels somewhat hard, and vigorous activity is intense and feels hard. If you want to lose weight or maintain weight loss, you may need to do 60 minutes or more of physical activity 5 days of the week.3
Be patient. It may take a few weeks of physical activity before you see changes in your health.
How can I be physically active safely if I have diabetes?
Be sure to drink water before, during, and after exercise to stay well hydrated. The following are some other tips for safe physical activity when you have diabetes.